Pure Car Carrier with Semi-Spherical Shaped (SSS) Bow
As reported in a fairly big article by January 27's Nikkei, Japanese leading economic newspaper, Kyokuyo Shipyard Corporation will start building a new series of 2,000 units type pure car carriers with an innovative hull design which significantly reduces wind resistance.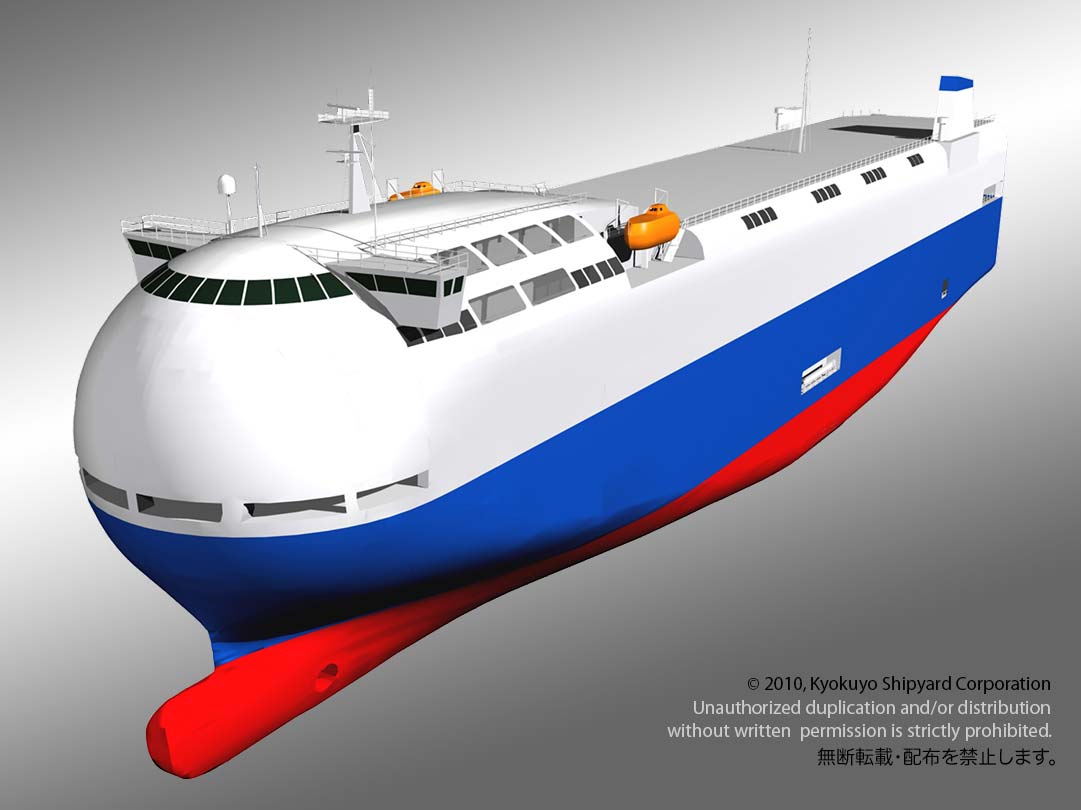 The company commenced research for the development of totally new and aerodynamic hull shape design above the water line at the beginning of 2007. Our goal was simple : to reduce wind resistance and gain higher fuel efficiency, which means lower running costs for ship owners/operators and lower CO2 emission for the Earth.
The development was code-named "SSS bow" because it was aiming at giving a Semi Spherical Shaped bow to pure car carrier, that is usually squarely shaped and quite susceptible to wind pressure. Our design team did a good job (as usual) and the final prototype achieved impressive results : Wind tunnel tests at Research Institute for Applied Mechanics of Kyushu University proved that its wind resistance is up to 50% less than that of conventional PCC design. Theoretically, a new "SSS bow" ship can save about 800 tons of fuel oil, and about 2,500tons of CO2 emission every year, in average oceanographic weather conditions of North Pacific water, at running rate of 75%.

The head charterer of the series, Nissan Motor Car Carrier Co., Ltd. gave high marks to the design for her good performance in both economical and ecological aspects. The vessels are planned to be operated in Europe and North Sea areas by its subsidiary company, Euro Marine Carrier B.V. of Holland. We look forward to having their performance results in real conditions.

The first SSS bowed vessel is scheduled to be delivered in the end of this year, after keel laid in June, while her sister will be completed 3 months later. We are anticipating to be stunned by her shape unlike anything we have ever seen before in or around September, when it will be finally visible.

We believe with this new design, Kyokuyo Shipyard proved and will prove once again its superior ship design abilities. The company will apply concept and details to other designs also, to help reduce the environmental impact of the seaborne trade. Stay tuned!